Triple-wall ripple (corrugated) cup is the right choice for "coffee-to-go", with the following 3 layers.
 *Base layer for inner cup: made of food-safe basic paper
 *2nd layer for air-shield cool wrap: made of recycled cardboard paper for eco friendly
 *High-friction surface layer with groove for optimum grip: perfect for hot resistance and easy handling.

We could do outer ripple cover by the following 3 options: straight ripple with large groove, straight ripple with small groove & "S" ripple.



The following 3 printing/unprinted are recommended. MOQ for any option is 50,000pcs.
 *Kraft Paper: without printing, Kraft paper is raw paper without bleach, more eco-friendly
 *Solid Color: classic & elegant, no need to open printing plate to save cost
 *Custom Branded: with customer logo/design, the best option for marketing/promotion

Apart from regular cups, we also have machines to manufacture 19oz pasta pot & 7oz soup pot.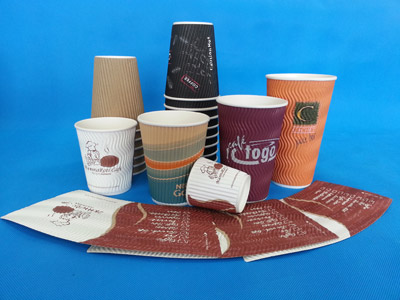 All Sizes Available As Follows for Triple-Wall Ripple Cup:
Capacity
(oz)
Capacity
(ml)
Specification
(mm)
QTY/CTN
(pcs)
CBM
   4oz
    100
  63*46*64
   1,000
   0.081
   7oz
    200
  75*49*81
   1,000
   0.104
   8oz
    250
  77*53*91
  80*57*95
   500
   0.076
   10oz
    300
  90*62*95
   500
   0.082
   12oz
    350
  90*58*111
   500
   0.083
   16oz
    450
  90*61*132
   500
   0.092
   20oz
    600
  90*63*152
   500
   0.133
*Specification:top diameter*bottom diameter*height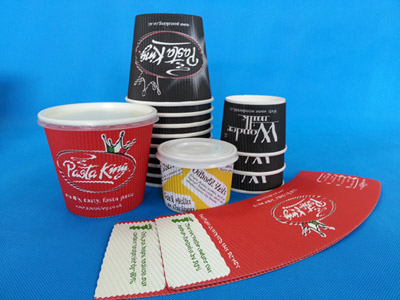 All Sizes Available As Follows for Triple-Wall Ripple Pasta Pot and Soup Cup:
Capacity
(oz)
Capacity
(ml)
Specification
(mm)
QTY/CTN
(pcs)
CBM
  19oz
  Pasta Pot
    550
  115*78*101
   500
   0.125
  7oz
  Soup Pot
    200
  85*70*62
   500
   0.102
*Specification:top diameter*bottom diameter*height